Take Action
File a Wage Claim
If you have experienced wage theft, file a wage claim with the Labor Commissioner's Office.
Examples of wage theft:
unpaid minimum wage or overtime
not receiving meal and rest breaks
bounced paychecks
final paychecks not received
unlawful deductions from pay
non-reimbursed business expenses
not provided with paid sick leave
How to File a Wage Claim
You have several options for how to file a wage claim, but no matter how you file your claim, the more information you can give us up front at the time of filing; the more effectively we can process your claim.
Complete the wage claim PDF form. The claim form and instructions are available in English, Spanish, Chinese, Korean, Vietnamese, Tagalog and Punjabi.

If you need help completing the form, visit or call a Labor Commissioner's Office location near you.

File the wage claim in person at one of the Labor Commissioner's Office locations
or
Submit it by mail.
Make sure to file your claim within the deadline:

Violations of minimum wage, overtime, illegal deductions from pay or unpaid reimbursements within three years from the time the problem occurred.
Claims based on an oral promise to pay more than minimum wage must be filed within two years.
Claims based on a written contract must be filed within four years.
What Happens Next
After you file the wage claim, you and your employer will be notified by mail about the next steps of your claim. A settlement conference will be scheduled for most claims. During this conference, a Deputy Labor Commissioner will try to help you and your employer reach a settlement agreement for the payment of your claim. At any point during the conference you may ask to speak with the Deputy Labor Commissioner in private. If you do not reach a settlement agreement before or during the conference, then your claim will move to a hearing.
Update the Deputy Labor Commissioner assigned to your claim in writing of any change in your address or phone number.
You will receive a Notice of Hearing with the hearing date and time. During the hearing, you and your employer will testify under oath and submit evidence about the claim. The Hearing Officer will not have any supporting documentation that you previously provided to the Labor Commissioner, so you must submit all of your evidence at the hearing.
After the hearing, you will receive a letter explaining the hearing officer's decision and the amount that the employer must pay you, if any. Both the employer and you have the right to file an appeal with the Superior Court if they do not agree with the decision.
For more information on the wage claim process, visit the Labor Commissioner's website.
Learn about the Wage Claim Process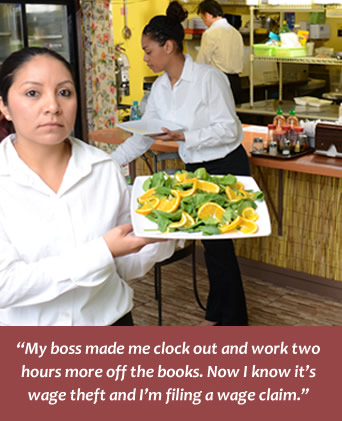 Garment workers who are not paid their full wages may file claims under the Garment Worker Protection Act, a law known as AB 633. Under this law, garment workers who are not paid for their work may file claims against the contractor who hired them, as well as the manufacturers whose garments they produced. In some cases, retailers may also be responsible for garment workers' unpaid wages. Under California law, these manufacturers and retailers are called "guarantors" and must guarantee that garment workers receive their wages.
To file a claim, complete the Garment Initial Claim form and mail it or take it to any of the Labor Commissioner's district office locations.
Videos